When should you ask for a review?
It's important that you ask for a review when the timing is right. Obviously, don't send out any review requests until the service or purchase has been completed.  
Ideally, ask customers that you know are happy with your service or product.

You can send out an automated email on completion of a purchase or once the invoice has been paid.

If you know your customer well, try to pick a time when you know they aren't as busy, otherwise they may forget to do it.

If it's an ongoing customer, send a request when you have a touch-point like an appointment reminder or once you have completed a milestone with the service provided.
What is your Google Review link?
You can find your Google Review link in your Google Business Profile settings once you are logged in.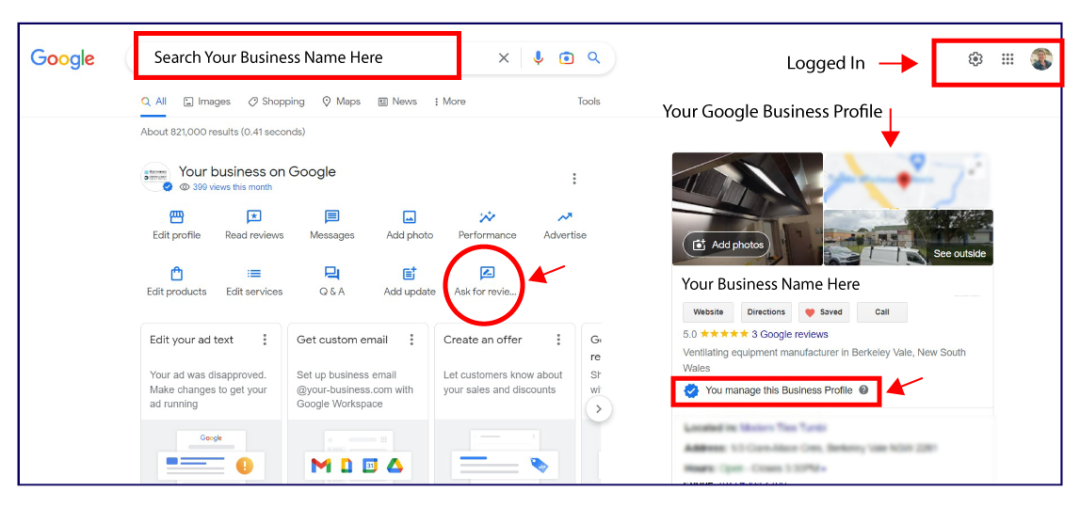 Explain why you are asking for a Google Review
Not everyone understands the importance of providing a review for a business. When requesting a review, explain how it will help your business.
It provides confidence to other potential customers that you are a trusted and reputable business.

It will help you to rank higher in the search results against your local competitors.
How to ask for a review
There are plenty of different ways to ask your customers to leave a review. Here are some options for you to consider:
Ask in person.

Send out an email.

Add the link to your email signature.

Send out an SMS and include a short link (you can use bit.ly for example).

Create a Google Business Profile 'Post' from an existing review including the star rating, what they said and who they are, then asking for customers to leave a review if they are happy with your service.

Provide a QR code for customers to go directly to your profile and leave a review using their phone.

Ask people when you meet with them if they enjoyed the service.

Embed your Google reviews onto your website so that when people click on them, they can also add a review – although this will depend on your service as your customer may only visit your website at the beginning.
Best way to respond to Google reviews

Here are some useful tips on how to respond and when:
Once you have reviews, be sure to respond to them – both positive and negative ones – quickly. It represents your business cares about its customers and gives you a chance to react to any problems right away. Ideally within 24 to 48 hours, and most definitely within the first week. If you miss that timeframe, still respond as it's not just about the existing customer. It's important for future customers to see that you interact with your customers. 

Be personal – refer to their name.

Be specific about the service or product they received (as long as it's not sensitive or confidential).

Finally, thank them!
If you are in a competitive industry, then reviews can give you the edge you need to stand out from the rest. Even if you aren't in a saturated business category, excellent ratings and reviews give customers the confidence they need to move forward with you.
Learn how to get more online reviews for your business.